The #1 pipe support choice for professionals in many industries, including roofing contractors, HVAC contractors, electricians, plumbers, and building managers and developers.

Pipe Prop is the leading pipe support and pipe stand choice for a wide variety of industry professionals. Alternative, handmade props such as wood blocks are precarious at best, and simply do not provide the durability and versatility of the Pipe Prop.
A dependable pipe support solution that lasts
Not only is the Pipe Prop more dependable, but it also provides a lasting solution to keeping pipes secure and level on commercial roof applications.
Pipe Prop adjustable pipe support system is perfect for HVAC condensate drains, gas supply lines, and electrical conduit piping.
Meet Pipe Prop inventor, Jim Brown
Take a couple of minutes and let Jim Brown, inventor of the Pipe Prop, introduce you to Pipe Prop and explain how YOU can save time and money by using this innovative product.
Pipe Prop has met the rigorous testing standards of Miami-Dade County, International Association of Plumbing and Mechanical Officials (IAPMO) for Uniform Plumbing Code (UPC).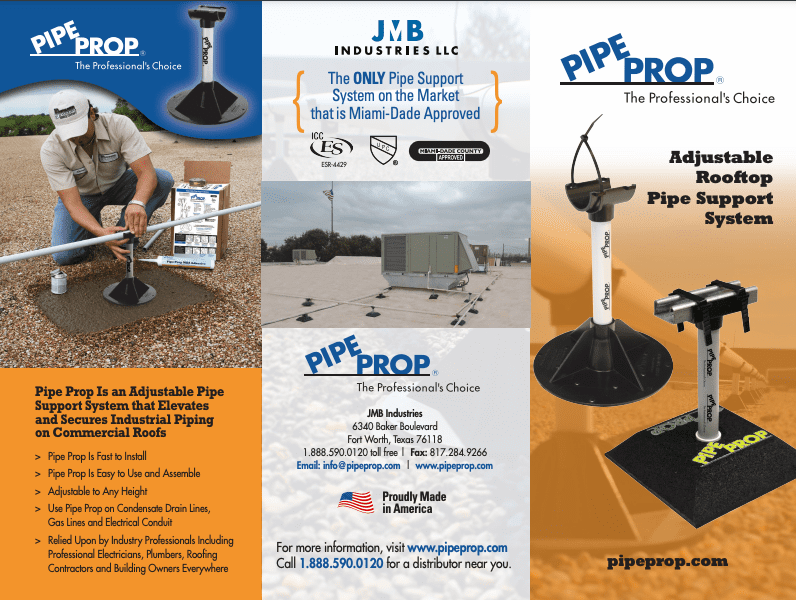 Download the Pipe Prop brochure
As a quick reference tool, download the Pipe Prop full-color brochure! It contains the reference numbers to all of the Miami-Dade County NOAs, IAPMO, listings, as well as other valuable information that will assist you in learning more about our product, as well as serving as an aid in any approval process for your pending projects.
"Strength and Durable Rooftop Pipe Support System – The Professional's Choice"
Innovative & Adjustable Pipe Support Solution for Commercial Roofs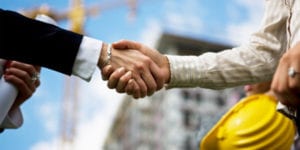 Industry professionals everywhere trust Pipe Prop to support heavy loads while maintaining its structural integrity, even up against weather conditions that may include high winds, rain, hail, ice or intense heat from Florida to California. This makes the pipe support system perfect for any professional roofer, HVAC contractor, or electrician in the country.
Designed as an aid for commercial installations, this industrial piping tool is the #1 choice of many professional installers across the United States. The system is tailored for HVAC adjustable condensate drains, gas supply lines and electrical conduit piping.
Whether your job calls for condensate pipe support or rooftop pipe support, we have a full line of products to help. Our adjustable pipe support options can be found found in the back of contractors vehicles across the United States for a good reason.
This industrial piping tool has completely revolutionized the way we think about pipe support systems. You'll be amazed just what a difference this small tool will make for you and your business.
Adjustable Rooftop Pipe Stands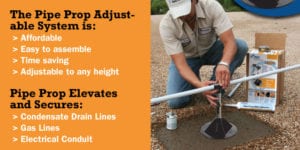 Made from the best ASA plastic, our stands are engineered for versatility, durability, and stability. They are the leading pipe support system available to a wide variety of professional contractors across the world!
If you have any questions relating to the technical specifications of our adjustable pipe stands, please call us to discuss your requirements. We will be more than happy to help!